Now I LOVE bacon and I can't stand the idea of "turkey bacon." Don't hate me there is just no way that turkey could possible replace my delicious little piggy.
So I have been on a mission to try and figure out which is better for you. By reading the ingredients AND nutritional facts, cause lets think people you DO have to look at both, you don't want to get something that they say is "healthy" based on it's "facts" only to take it home and find out it's filled with horrible preservatives and "artificials". So how about we start there. We will compare the nutritional facts of each option.
So here we have Butterball turkey bacon. Looks good right? Then compare it to this: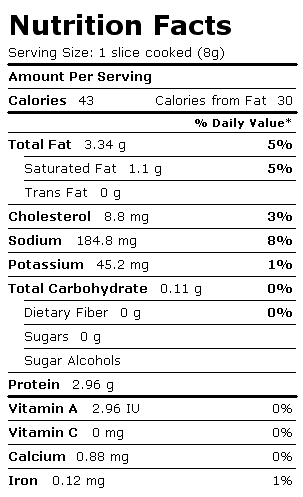 Pretty similar yes?? Yes, not too much of a difference, they even have the same sodium levels, although you have to consider the servings sizes for turkey bacon it is 15g whereas here with the regular bacon it is 8g so for every ONE piece of turkey bacon you could have TWO pieces of regular. Tricksy aren't they?? So when you actually look at that Turkey bacon has more sodium, more fat, AND more cholesterol!! This floored me!! but secretly made me happy happy happy!!
So already I am still on the piggies side. But what about the ingredients?? In "oscar Mayer turkey bacon" we have:
Turkey, Water, Salt, Sugar, contains Less than 2% of Sodium Lactate, Canola Oil, Sodium Diacetate, Sodium Phosphates, Smoke Flavor, Sodium Ascorbate, Autolyzed Yeast Extract, Sodium Nitrite, Dextrose, Soy Lecithin.
Then in "Oscar Mayer regular bacon" we have:
Cured with Water, Salt, Sugar, Sodium Phosphates, Sodium Ascorbate, Sodium Nitrite.
So what do I take from all this research and all this extra time spent at the store browsing?! That regular bacon is the better choice... granted not by much but it is a BIT better.