This darling sweet girl gave us at The Little Fat Girl this wonderful award to let us know she thinks WE'RE stylish... that's right WE'RE FREAKING STYLISH!
I just about doubled my weight when I had my boys.... eww..
Erin and I are the bestest of bloggy friends, which is why we collaborated to create this blog for all of you. I had a need, she filled it and together we're hopefully filling your needs for information and motivation!
I am finding desperately hard to come up with seven things about myself.
My hubby wont let me cut my hair short cause he me me that one time i had long hair... before I always sported the snow white look.
I'm addicted to She and Him.
Would love to have the ability to multiple myself granted all "myselves" would be telepathic.
Motivation for me is an impossibility when presented with HIGH stress situations.
Now to pass this along to some GREAT bloggers!!
Diary of a Dieting Diva
Eat me, Delicious
Fat 2 Fit family
Fat Girl Dives In
Fit Body Full Life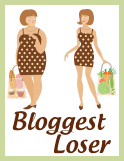 So thank you doll for the lovely award and THANKS TO ALL OF YOU WHO READ US!! XOXOXOXOXO